Join us at the Mankato Moon Dogs Game June 24th, 2023!

HundredX Fundraiser – We raised $12,416 for Camp!
Thank you to everyone that participated in the survey campaign! Every dollar makes a difference. We appreciate your support!
Sponsor a Cabin for Camp 2023!
Make a huge difference at Camp Sweet Life this year and sponsor a cabin for 2023! It is $150 to sponsor a cabin.
Please remember that Camp Sweet Life is a 501c3 non-profit and your donation is tax-deductible.
Strike Out Type 1 Diabetes – November 13, 2022
Are you interested in having fun and raising money to cover part or all of your 2023 camp fee? If so, we invite you to join the Strike Out Type 1 Diabetes fundraiser. The event will be held on November 13th, 2022.
How Strike Out Type 1 Diabetes works:
Camp Sweet Life Campers!
Strike Out Type 1 Diabetes is set up to help bring awareness to Type 1 and to support CSL. We are looking for campers to participate to get your camp registration fee for 2023 paid for!
Campers are sponsored by a local business in their area,  then find a bowler from your area ( or a local  Mankato Area "good" bowler is assigned as the  bowler for their team. The bowler will then bowl for 30 minutes (2 – 15 min shifts) to get as many strikes as possible. The camper will get pledges from people for each strike thrown in the 30 minute shift by their bowler. (example… $.50 per strike and the bowler throws 60 strikes is a $30.00 pledge).
The deadline for signup with sponsors is November 01, 2022
Sponsor fee is $150.00, this covers the cost of the event.
How do you get your camp paid for in 2023?
Get enough pledges to raise $800.00 get 1/3 of your camp fee paid for!
Get enough pledges to raise $1,250.00 get 2/3 of your camp fee paid for!
Get enough pledges to raise $1,800.00 get your full camp fee paid for!
If you are interested in participating in this fundraiser please reach out to Rene Maes of CSL at rene.maes@campsweetlife.org or 507-995-6910 to get additional information.
Questions on teams and this event – contact Rene' Maes or Tim Emmers – 507-399-3577   t_emmers@yahoo.com
We appreciate your consideration to support our mission and keep the cost of camp down (or FREE)!.
–
–
Express Feedback for Good (EFG)
2022 – Thanks to All!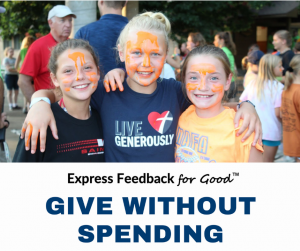 Camp Sweet Life had 191 register to take surveys that raised over $9,000 for Camp Sweet Life! Thanks to all who were able to participate this year![/vc_column_text][/vc_column][/vc_row]