Online Auction
Bidding Starts: Nov 12th at 10:00 AM CST
Bidding Closes: Nov 14th at 7:00 PM CST
Auction Link: Click Here
How it works – Donate:
1. Please submit one clear photo along with a general description of the item to auction@campsweetlife.org (measurements are helpful on larger items). Also include contact information for donor (name/email/phone number). Please ONLY ONE ITEM PER E-MAIL if you have multiple items.
2. We will gladly accept items you sell as part of a home business (Pampered Chef, Avon, etc) as long as you're making a full donation, commissions included).
3. Donations can include homemade items such as crafts, baked goods and art. (please list ingredients in the baked goods which may cause potential allergies such as peanuts, etc.)
4. Baked goods will be shipped within a reasonable timeframe to allow the donor time to prepare the products and/or ship per buyer request (holiday baked goods/birthday treats, etc.)
Donations will be accepted until Wednesday, November 10, 2021 by 8:00pm CST.
Bidding:
1. All payments will be made through PayPal or Credit Card ONLY (no checks, no exceptions)
2. If you are the winning bidder, you will be tagged in the comment section underneath the item you won. You will need to post your email address underneath your tag so that an invoice can be prepared and sent to you
for payment.
3. All bids will be finalized by the Auction Committee, and notification will be made to winners via the comment section underneath their winning item within 24 hours of auction end time. In cases where there are a
number of bids placed in the closing minute of the auction, the winning bid will be the last one placed BEFORE the clock hits the closing hour. The decisions of the Auction Committee are final.
4. You will receive an invoice for your items via the email that you provided and payment must be made within 24 hours of receiving the invoice. (PLEASE WAIT FOR YOUR INVOICE). If payment is not received within 24 hours your time will be awarded to the next runner-up.
Shipping and Payments:
1. If you have donated an item, do not ship until you have been notified that payment has been received by the Auction Committee.
2. Donor is 100% responsible for shipping costs. Please be aware of this when you are considering what to donate.
|
Strikeout Type 1 Diabetes
ORDER YOUR STRIKE OUT T1D APPAREL NOW
Are you interested in having fun and raising money to cover part or all of your 2022 camp fee? If so, we invite you to join the Strike Out Type 1 Diabetes fundraiser. The event will be held on November 14th, 2021.
How Strike Out Type 1 Diabetes works:
Campers will find a local business in their community to sponsor them for the event. The sponsor covers a $150 fee to help support event expenses. Then, a skilled bowler is assigned to the camper, or a camper can bowl for themselves if they wish to as well! The camper will ask for pledges from people for each strike thrown in the 1 hour by their bowler/themselves. The bowler will then bowl for 1 hour (four 15-minute shifts) to get as many strikes as possible.
For example, a pledge of $0.50 per strike will garner $30 if the bowler gets 60 strikes during the 1-hour period. The deadline for signup with sponsors is November 1st, 2021.
How to get camp paid for 2022 (and support Camp Sweet Life):
• Get enough pledges to raise $800.00 – get 1/3 of your camp fee paid for!
• Get enough pledges to raise $1,250.00 – get 2/3 of your camp fee paid for!
• Get enough pledges to raise $1,800.00 – get your full camp fee paid for!
If you are interested in participating in the fundraiser, contact Rene' Maes Jr., Camp Sweet Life executive director, at rene.maes@campsweetlife.org or 507-995-6910.
Contact Tim Emmers (t_emmers@yahoo.com or 507-399-3577) for questions about the event or teams. We appreciate your consideration to support our mission and Strike Out Type 1 Diabetes.
–
–
Express Feedback for Good (EFG)
2021 – Thanks to All!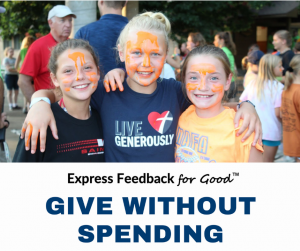 Camp Sweet Life had 191 register to take surveys that raised over $9,000 for Camp Sweet Life! Thanks to all who were able to participate this year!