Strikeout Type 1 Diabetes
Are you interested in having fun and raising money to cover part or all of your 2022 camp fee? If so, we invite you to join the Strike Out Type 1 Diabetes fundraiser. The event will be held on November 14th, 2021.
How Strike Out Type 1 Diabetes works:
Campers will find a local business in their community to sponsor them for the event. The sponsor covers a $150 fee to help support event expenses. Then, a skilled bowler is assigned to the camper, or a camper can bowl for themselves if they wish to as well! The camper will ask for pledges from people for each strike thrown in the 1 hour by their bowler/themselves. The bowler will then bowl for 1 hour (four 15-minute shifts) to get as many strikes as possible.
For example, a pledge of $0.50 per strike will garner $30 if the bowler gets 60 strikes during the 1-hour period. The deadline for signup with sponsors is November 1st, 2021.
How to get camp paid for 2022 (and support Camp Sweet Life):
• Get enough pledges to raise $800.00 – get 1/3 of your camp fee paid for!
• Get enough pledges to raise $1,250.00 – get 2/3 of your camp fee paid for!
• Get enough pledges to raise $1,800.00 – get your full camp fee paid for!
If you are interested in participating in the fundraiser, contact Rene' Maes Jr., Camp Sweet Life executive director, at rene.maes@campsweetlife.org or 507-995-6910.
Contact Tim Emmers (t_emmers@yahoo.com or 507-399-3577) for questions about the event or teams. We appreciate your consideration to support our mission and Strike Out Type 1 Diabetes.
–
"Round Up" for Camp Sweet Life
Your small ¢hange can make a big Change for Kids at camp!
Have you ever checked out at the grocery store, and the clerk asked you to round your change up to benefit a charity of the store's choice? Little by little, these tiny donations add up to be a lot of change!
Camp Sweet Life has found a way for you to invest your small change from daily purchases to help children experience the joy and benefit of diabetes camp! With Change for Kids, your secure card transactions will round up to the next dollar to support camp.
Sign-up is very easy and takes less than two minutes! Then, you spend like normal. Let's say tonight, you go and fill your car up with gas and it costs $15.99. You swipe your card like normal, and your receipt from the gas station will show $15.99 – but you can smile behind the scenes knowing you just donated 1 penny to Camp Sweet Life!
We also realize that many people have a budget, so you can easily set up a monthly limit to your max donations and also cancel at any time. On the last day of the month, your card will donate the rounded up change in one donation to Camp Sweet Life.
Sign up for Change for Kids is easy, safe and secure. How to sign up:
1. Text message DIABETESCAMPS to 43506.
2. Or CLICK HERE TO DONATE with "ROUND-UPS"
Your Change for Kids will make a wonderful difference in the health and happiness of children living with diabetes! Thanks for your support of Camp Sweet Life Adventures!
–
Express Feedback for Good (EFG)
2021 – Thanks to All!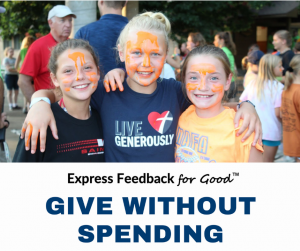 Camp Sweet Life had 191 register to take surveys that raised over $9,000 for Camp Sweet Life! Thanks to all who were able to participate this year!