Camp Sweet Life News:
Learn how to ACE Your Diabetes… TCOYD is Betting on YOU!
VIRTUAL DIABETES CONFERENCE & HEALTH FAIR – April 15th, 2023
Get ready to ACE your diabetes because TCOYD is betting on YOU! We know that sometimes having diabetes doesn't feel like a fair game. However, this is the hand we've been dealt. Learn how to play your cards right and you'll be heading to the diabetes winners club with a jackpot of good health.
Mankato Area Sunrise Lions "Big Check" presentation from 2022 Diabetes Rally
On February 16th, at the Mankato Sunrise Lions meeting the Sunrise Lions Diabetes Rally, co-chair Carol Brady (far left), along with District Governor of Lions 5M2 Kathleen Bleckenberg,, and co-chair Rachel Depydt (far right) presented Rene' Maes Jr , Executive Director for Camp Sweet Life Adventures, Inc. a check for $16,148.00 This was half the money raised from the 2022 Mankato Area Diabetes Rally. A check was also presented to the Minnesota Lions Diabetes (MLDF) $16,190!

Lions Club Donations to Camp Sweet Life
Hamburg MN Lions Club makes a $1,000 donation to Camp Sweet Life in at the 5M2 Midwinter Convention! Thank you, Hamburg Lions Club!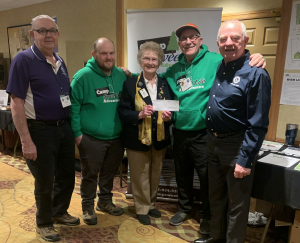 The Prior Lake Lions Club made a $500 donation at the 5M2 Midwinter Conference for Camp Sweet Life! Thank you for your continued support of Camp Sweet Life in our programs for Kids with T1D!

DECA News
View the most recent DECA Spring Newsletter "Calling the Shots" HERE.
––
Mankato West grad earns scholarship from diabetes nonprofit